Ramakrishna Hegde, a pure politician.
Naganasyagrato GaCHeth...., a quote in Sanskrit, which means,"Never lead, for fruits of success shall be shared by all and on failure blame goes entirely on the leader". But many like the leader, few hate him/her. Sometimes for qualities s/he has, some times for not having them and many times believing that they have it. Hegde led and is remembered and will be remembered for doing so. If there are blames, no leader is complete without them. So was Hegde.
Shri Ramakrishna Hegde, was born on August 29, 1926 at Siddapur (North Kanara), Karnataka to Shri Mahabaleshwar Hegde and Shrimati Saraswati Hegde. He has been educated at Sirsi and Kashi Vidyapeeth, Benaras and Lucknow University. He has a degree in Law (LL.B.) and is also a master's degree holder.
Shri Hegde participated in the freedom struggle and was jailed during the Quit India Movement (1942). He organised the Kisan (farmer's) movement when he was in his twenties; was actively involved in the students' movement and was also detained in Benaras Central Jail for two months in that connection. He was elected as President, District Congress Committee, Kanara (1954-57).His greatest inspiration lay at home in the form of his elder sister, elder by nearly 24 years, Mahadevi Thayi, who was already an ardent follower of Vinoba Bhave and Mahatma Gandhi.
Shri Hegde was General Secretary, Karnataka State Congress Committee for six years and General Secretary of the All India Janata Party for six years. He was detained during the Emergency (1975-77) in Hindalga (Belgaum) and the Bangalore Central prisons.
He started his political career with the Membership of the Karnataka Legislative Assembly in the year 1957.Much of his early administrative experience was built up in the governments of S. Nijalingappa (1957-58 and 1962-68) and Veerendra Patil (1968-71) during which he held portfolios such as Cooperation and Development, and Panchayati Raj between 1962 and 1965; and, Finance, Excise and Prohibition, and Information and Publicity between 1965 and 1967.
Hegde came into his own in the period following the emergency after 1977 and was instrumental in the formation of the Janata Party and later the Janata Dal. He reached the height of his popularity when he became chief minister of the state between 1983 and 1988 and put Karnataka firmly on the map of the country, before which the state was known just as one of the four South Indian states. Though he unleashed a series of reforms and gained the reputation of being a modern CM, controversies dogged his tenure and he did not repeat his CM feat. Among the allegations against him were tapping phones of opposition leaders and a massive land grabbing case.
His tenure was also marred by what is now called the `Hegde trick' - faced with insurmountable challenges he would submit his resignation and then withdraw it ostensibly in the wake of pressure from the party. This was also the time the rift between his arch rival H.D. Deve Gowda became even more intense.
Finally, after the JD lost elections in 1989, Hegde kept a low profile but continued to play an active role in state and national politics, trying his hand at the Lok Sabha now and again.
As Chief Minister of the State, he introduced many welfare schemes for the weaker sections of society, backward classes, SC/ST and minorities. These include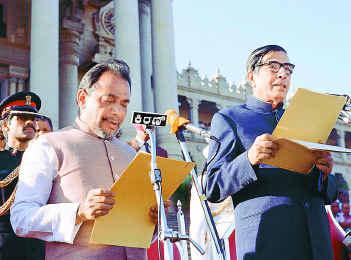 1983: Being sworn in as CM by Governor A.N. Banerji
(i) distribution of free uniforms and text books to school going children;
(ii) widow pension;
(iii) maternity allowance for poor working women;
(iv) bus passes for students;
(v) debt relief to farmers;
(vi) reduction of voting age from 21 to 18 in local bodies;
(vii) 25% reservation for women in Panchayati Raj, Municipal bodies;
(viii) establishment of a Minority Commission, Government medical colleges for muslims and backward classes, a Minority Development Corporation, a Backward Class Development Commission and an SC/ST Development Corporation.
As Chief Minister he also established the LOKAYUKTA, for the first time in India, to enquire into corruption charges against ministers, including the Chief Minister.
When we were going to school, one day, we were distributed a set of Kakhi shirts and all books for the relevant class. We remember our teacher saying, "Hegde has asked to give you all these". The next day school was full of kakhi. Only birds could catch us. We were flying.
He was an elegant speaker. When Vajpayee was addressing a crowd in a town, an old man rises from the crowd and asks him "Hegde avre namage hindi artha agadilla, neevu bidisi helbeku" (Mr.Hegde, we can not understand Hindi, you have to translate it for us). My grandfather told me, Hegde translated Vajapayee`s speech for the crowd. He could do anything that would make others convenient.
Meanwhile, Hegde also did a stint as union minister of commerce and later was chosen as the deputy chairman of the Planning Commission. However, his popularity was becoming a thorn in the side of Gowda and he expelled him from the JD when he became Prime Minister.
He also served as deputy chairman of the Planning Commission when Mr. V P Singh was the prime minister. Nijalingappa, the man behind making Karnataka a home to the largest number of Tibetans in India, was his mentor in politics.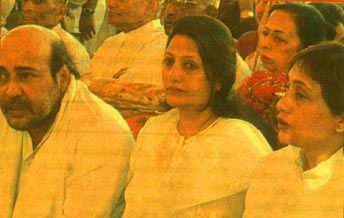 Bharath Hegde, Samatha, Mamatha.
The abiding contribution of Ramakrishna Hegde to public life lies in his enrichment of Indian democratic practice. His vision and creativity in developing cooperative federalism will remain an enduring aspect of his political legacy. As Chief Minister in Karnataka between 1983 and 1985 and again between 1985 and 1988, he became an active votary of State rights within a federal set-up, but one who made no concession to regional or linguistic chauvinism. Secondly, he took innovative initiatives in expanding the federal principle within the State, primarily in the area of devolving power to local bodies and in trying to enforce accountability. During his Chief Ministership, Karnataka pioneered legislation on panchayat raj that devolved a substantial degree of financial and administrative powers to a three-tiered structure of local government. In 1984 he introduced legislation to deal with official and administrative corruption through the institution of the Lokayukta.
Mr. Hegde acquired an aura that extended beyond the State. "Probity in public life" and "value based politics" became phrases popularly associated with him. He appeared to lead a crusade against corruption, demanding that politicians be clean and demonstrably so. His fealty to these principles held such appeal that he appeared always to hold the moral high ground through a turbulent political career.
Mr Ramakrishna Hegde had revitalised panchayat raj in the state in 1987, but the experiment was aborted by the Congress regime that followed. His mid-eighties experiment with decentralization of administration and local self-government became the prototype of a new approach to governance in every other state. It was an attempt to marry a new politics with the needs of a changing style of governance, warranted by the social and political realities of the country. It was to his credit that he read the moment of change and had the pioneering spirit to capture it. James Manor and Richard Crook have recently done an interesting new study of democratic decentralization for the Overseas Development, Administration, UK. The study looked at experiments in decentralisation in Karnataka in India (1987-92), Bangladesh (during the Ershad regime). Ivory Coast and Ghana.Of the four, Karnataka was by far the biggest success. Karnataka gave its mandal and district councils enough finance, whereas the experiments in Ivory Coast and Ghana collapsed because of fiscal stringency.The diversion of funds through corruption decreased, though villagers thought it had increased. Earlier, the big boys in state capitals siphoned off large sums in ways not visible to villagers. After decentralisation, there was a lot of small-scale corruption at the local level which was visible to villagers. But, according to the study, the volume of kickbacks actually declined, a very positive result.
He was Chief Minister,during the following period;10-01-1983 to 29-12-1984,08-03-1985 to 13-02-1986,16-02-1986 to 10-08-1988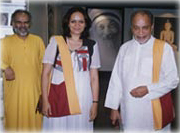 Hegde with Pratibha
If his primary contribution to politics and public life lay in enriching the principle of cooperative federalism by enlarging the ambit of State rights vis-a-vis the Centre, the second part of his political legacy followed from this. He gave centrist politics in the country new direction and shape, breaking the political monopoly of the Congress while yet retaining and refurbishing what he believed were its original socialistic tenets, particularly in respect of people-centered, responsive and accountable governance. He was Karnataka's first non-Congress Chief Minister, and his tenure became a reference point for subsequent administrations.
Hegde and his admirers believed that he was made of prime ministerial stuff but he failed to make it to South Block when Mr H. D. Deve Gowda pipped him at the post in 1996. It is debatable whether his obsession with the Prime Ministerís job cost him dearly, but he lost his battery of supporters in the process and had been ploughing a lonely furrow for quite some time. Health problems finally claimed his life. A sad end of a career of a man who could still do more for the country.
He took keen interest in the fields of photography, acting in movies, literature, fine arts and music. Suave and soft-spoken, Shri Hegde had a long and distinguished political career. He acted in the movie Marana Mrudanga.
His relations with danseuses Ms.Pratibha Prahlad, will remain a question mark,though not a black mark in his life.
Hegde suffered a brain stroke at midnight Jan 12 2004. He breathed his last at 2:15 PM.He was 76 when he died. He is survived by his wife (Shakuntala), one son and two daughters. (Bharath, Samata, Mamata).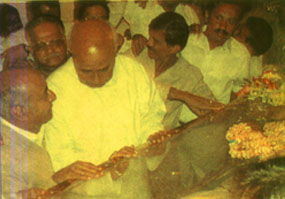 The man who loved to hate!

Hegde remarked once,"I am reminded of the powerful, euphemism credited to the late J.R.D. Tata: "Find the right man and set him free." That policy is what an enlightened political system in India needs today: identify major stakeholders and release their creative energies into the building of a vibrant Indian future"

We found a right man, but we did not set him free. We asked him for favours. We did not support him in his difficult times. Like any other, one more breath mingled in the air. And we lost a leader of admirable level of integrity.




By
Ragu Kattinakere (raguks@indiatimes.com)
DSP Engineer
EPIGON Media Technologies.,
Bangalore India

Note:
This article is not original. This is a compilation of the extracts of various articles and facts that were available to the author at the time of writing. More than 15 newspappers and other matirials were reffered to prepare this compilation. Any corections will be appriciated. This article gives possibally, a complete picture of hegde and his life. Care has been taken to avoid biased statements and generalisation. The interpretation of the facts is left to the reader. The article is general in approach and not targetted at any particular community or caste.